Ahead of Hearing, Palestinian Poet Arrested for Social Media Posts Receives Widespread Support from Literary Figures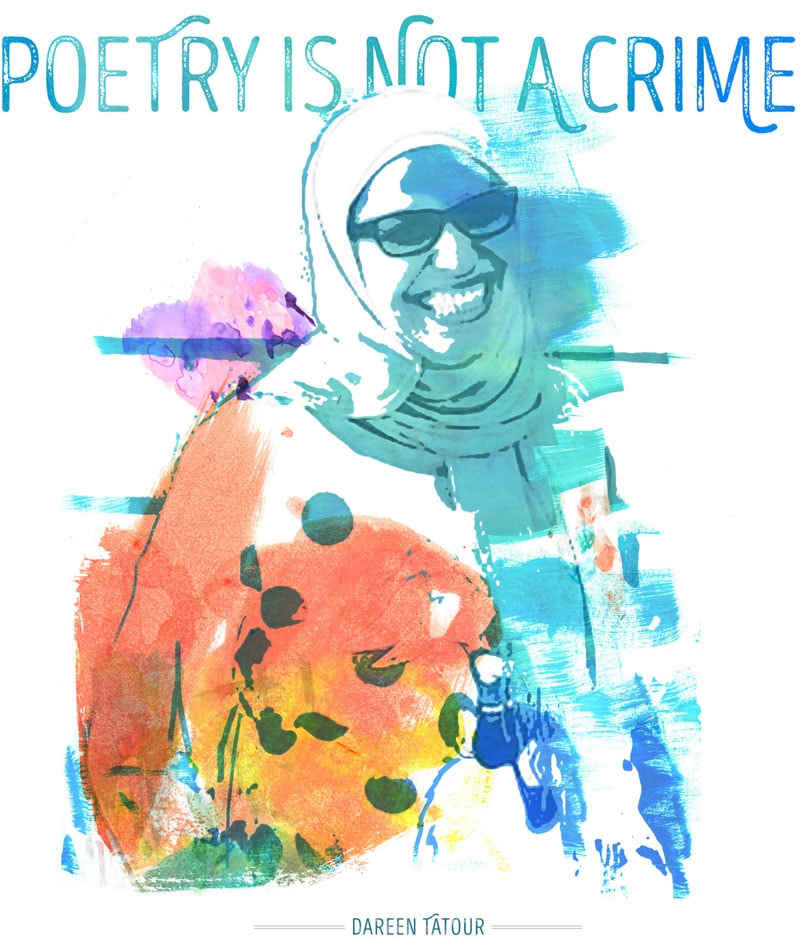 [q_box background_color=" background_image=" border_color='#f2f2f2′ border_width='2′ top_padding='0′ bottom_padding='10' leftright_padding='20']
FOR IMMEDIATE RELEASE
September 1, 2016
Contact: Naomi Dann | media@jvp.org | 845-377-5745
[/q_box]
Ahead of Hearing, Palestinian Poet Arrested for Social Media Posts Receives Widespread Support from Literary Figures
September 1, 2016–A Palestinian citizen of Israel arrested for a poem posted on Youtube has received widespread support from thousands of people around the world, including hundreds of prominent literary figures. An ad placed in this week's edition of The Nation by Jewish Voice for Peace calls on readers to join over 300 prominent writers, intellectuals and artists, including Noam Chomsky, Naomi Klein, Dave Eggers, Alice Walker, Viet Than Nguyen, and Edwidge Danticat, who have signed a letter calling for the release of poet Dareen Tatour. The ad is headlined, "Poetry Is Not A Crime."
While Tatour has gained international support, Israeli authorities are attempting to constrain her ability to defend herself at her upcoming hearing on Tuesday September 6th. In a troubling development, the prosecution asked the judge not to allow Tatour's defense team to submit their own translation from Arabic to Hebrew of Tatour's poem that is at the center of the case, "Resist, My People, Resist Them." Tatour is expected to testify at the September 6th hearing to explain that her poem, which was mistranslated by an Israeli policeman, is in fact a legitimate protest against crimes committed by Israeli settlers and soldiers occupying Palestinian land.
Dareen Tatour faces up to 8 years in Israeli prison on the charge of incitement to violence for her poem posted to YouTube and for two Facebook postings. Tatour was first arrested in October 2015. She was imprisoned for three months before being released to house arrest in an apartment rented by her family for that purpose in Tel Aviv. In late July, as her plight was gaining more international attention, she succeeded in challenging the conditions of her detention. A judge granted her appeal to move her house arrest to her parents' house in her hometown of Reineh.
A new video produced by AJ+ shows Dareen Tatour under house arrest at her family home. She explains how her poem, which speaks about Palestinians killed by Israeli settlers and soldiers, including Mohammed Abu Khdeir, the Dawabsheh family, and Hadeel al-Hashlamoun, has been misinterpreted to charge her with incitement to violence. Tatour tells the camera: "After the arrest and everything that has happened to me, I discovered that unfortunately there is no democracy in this country."
In a newly translated poem written from prison in November 2015, Tatour explained, "A poem stands accused, my poem morphs into a crime. In the land of freedom, the artist's fate is prison." In a podcast interview published by Warscapes Magazine on August 31, Palestinian-American poet Naomi Shihab Nye, one of the signers of the letter, discussed Tatour's case and the powerful force of poetry to express opposition to injustice.
Tatour is one of over 400 Palestinians arrested in the last year for expressing resistance to Israeli military occupation over social media. The Israeli government frequently arrests and harasses Palestinian artists. The petition signed by prominent literary figures calling for Tatour's release states that: "Expressing resistance to oppression and Occupation through poetry is by nature non-violent and should not be criminalized by any government."
Interviews with poet Dareen Tatour can be arranged upon request.
###
Jewish Voice for Peace is a national, grassroots organization inspired by Jewish tradition to work for a just and lasting peace according to principles of human rights, equality, and international law for all the people of Israel and Palestine. JVP has over 200,000 online supporters, over 60 chapters, a youth wing, a Rabbinic Council, an Artist Council, an Academic Advisory Council, and an Advisory Board made up of leading U.S. intellectuals and artists.
Adalah-NY: The New York Campaign for the Boycott of Israel is a local, grassroots, non-hierarchical volunteer-only group of concerned individuals that advocates for justice, equality, and human rights for the Palestinian people. Adalah-NY organizes in support of the 2005 call by Palestinian civil society to maintain non-violent means of protest — including boycotts, divestment, and sanctions — until Israel respects Palestinians' fundamental rights.
Get
the Wire
Stay up to date on the most important news from Palestine and the Palestine solidarity movement, and receive action alerts and invitations to online events.