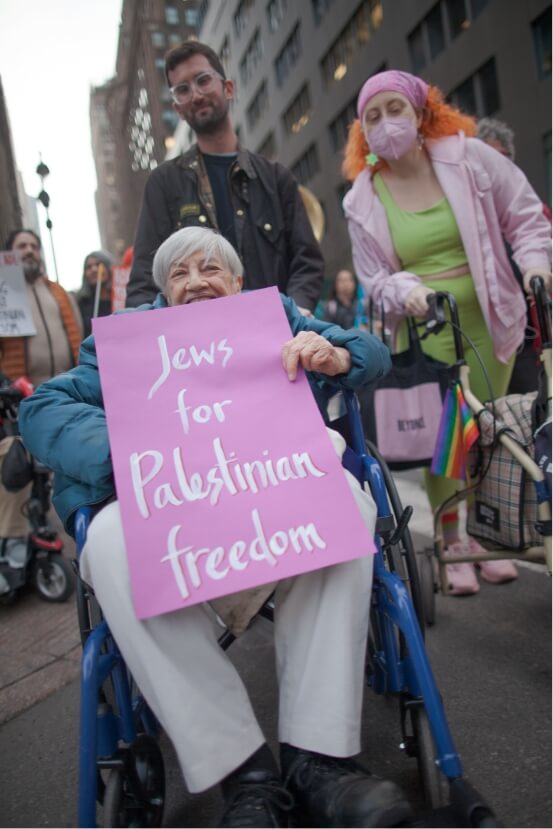 Who We Are
JVP is a national, grassroots organization working towards Palestinian freedom and Judaism beyond Zionism. It's the largest such organization in the world.
As the right wing gathers momentum in the U.S., Israel, and globally, it can be hard to know how to respond as an individual. Tens of thousands have joined JVP because they want to make meaningful contributions to the crises of our time and know that making change takes collective power.
Being a member of a grassroots, national membership organization means joining a community of thousands of people working together towards freedom and justice for all from the U.S. to Palestine. Members are the base of JVP, and when our membership grows, the movement grows.
Becoming a member commits to your stake in the movement. It allows you to be counted. And it amplifies your power. And together, we can take action — online, in the streets, and in our communities.
We will build rooted bases of power in cities, towns, and campuses all across the U.S. Click your area on the map to see if we're there yet.
From city councils to state pension funds to student governments, we're fighting off right-wing legislation, demanding an end to government funding and support for Israeli apartheid, and growing the ranks in our communities who support Palestinian freedom as part of an intersectional, progressive agenda.
Join a Chapter
JVP chapters, pods, and havurot are building community and running campaigns across the country
Learn More
Campus Program
JVP is organizing students on college campuses across the country.  abby@jvp.org
To get involved, email: abby@jvp.org
HAVURAH Network
We are an emergent network that gathers, supports, and resources diasporist, anti-Zionist, and non-Zionist Jews and Jewish spiritual communities.
Learn More
Join the Rabbinical Council
The JVP Rabbinical Council is a network of rabbis, cantors, and rabbinical students that supports the mission of JVP, our members, the Palestine solidarity movement, and each other.
Learn More
BIJOCSM Network
Our BIJOCSM network is a cross-pollination space built for and by Black, Indigenous, Jews of Color, Sephardi and/or Mizrahi Jews to build community, identity, analysis, and power within a particular identity group or amongst the various communities of the larger network.
If you identify as a Black Jew, Indigenous Jew, Non-Black Jew of Color, Sephardi or Mizrahi, email shirly@jvp.org
Health Advisory Council
The Health Advisory Council is a network of doctors, nurses, and healthcare workers in solidarity with Palestinians.
Learn More
Nope. Wherever you are, you are welcome to join us in our work.
We focus on the United States, however, because of the crucial role that the U.S. plays in the Middle East — including large sums of military aid that fund the Israeli occupation.
No, you don't.
JVP is an organization that is inspired by Jewish values and traditions to work towards peace and justice.
We are committed to building an inclusive Jewish community, that, like many of our families, welcomes Jews and allies who share our values and appreciate our traditions, who advocate for an end to Israeli human rights abuses, and who oppose anti-Jewish hatred, anti-Arab racism, and Islamophobia.
If you prefer to send your Member dues by check, please send them to JVP, PO Box 589, Berkeley, CA 94701 and write "membership" and your email address in the notes section of the check.
Yes. You should receive a reminder email to the address you used to join JVP before your annual membership expires.
The easiest way to stay current is to commit to recurring contributions. With monthly recurring contributions of at least $3, your membership will always remain current.
Get
the Wire
Stay up to date on the most important news from Palestine and the Palestine solidarity movement, and receive action alerts and invitations to online events.