Hundreds of young Jews, former Birthright participants and Palestinians to protest Birthright in NYC, call for boycott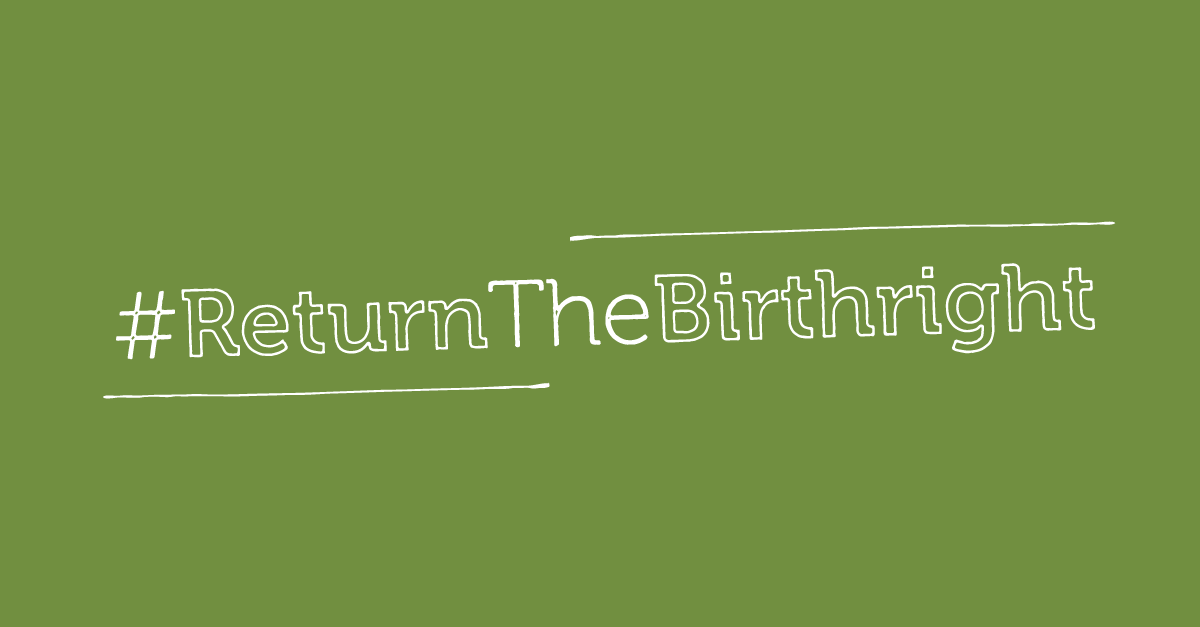 [q_box top_padding='0′ bottom_padding='10' leftright_padding='20']
MEDIA ADVISORY
Contact: Ben Lorber, Campus Coordinator | 301-787-9709 | ben@jewishvoiceforpeace.org
[/q_box]
Hundreds of young Jews, former Birthright participants and Palestinians to protest Birthright in NYC, call for boycott
WHAT: Young Jews will hold a speakout, ritual and protest outside the Birthright Israel Foundation's offices in New York City on Sunday December 3 to send the message that Birthright does not represent our values. Birthright Israel just postponed their 18th anniversary gala, originally scheduled for December 3, after Sheldon Adelson, GOP mega-donor and far-right patron of Israeli Prime Minister Benjamin Netanyahu, reportedly fractured his ribs. Adelson was to be the guest of honor, bestowed by Birthright with the 'Guardian of the Jewish Future' award.
The protest is part of the JVP Student Network's #ReturnTheBirthright campaign, which calls on eligible Jewish youth to boycott Birthright's free trips to Israel. The campaign, launched in September, is spearheaded by Jewish students and young Jews who believe it is fundamentally unjust for them to take a free trip to Israel, while Israel prevents millions of Palestinian refugees from returning – and in many cases even visiting – their homes.
WHEN: Sunday, December 3, 2017, 1:00-3:00 pm
1:30: Speakout with Palestinian and Jewish students, Birthright alum
2:15: Ritual to "Return the Birthright"
2:45: Chanukah candle-lighting ritual
WHERE: 33 East 33rd Street, New York, NY
WHY: We are young Jews who refuse to take a Birthright trip while Israel continues its policies of military occupation, discriminatory laws, and denial of the right of Palestinian refugees to return. By giving Jews like us a free trip to a state which is presented as exclusively ours, while Palestinian refugees cannot return, Birthright exemplifies the problem inherent in the privileging of Jews over Palestinians that has characterized Israel's existence since its founding as a Jewish state in 1948, an event which triggered the expulsion of hundreds of thousands of Palestinians and caused the refugee crisis which continues to this day. We don't need a trip which is inherently discriminatory, and increasingly acts in lockstep with Sheldon Adelson and far-right interests in the Israeli government, to strengthen our already strong Jewish identities.
One month after Birthright's decision to ban even the few encounters with Palestinians that occurred on its trips, we are showing up to their offices to Return the Birthright. We are dedicated, as young Jews, to building a Jewish future founded on liberation and solidarity, not support for occupation, apartheid and xenophobia.
The day before our protest, we will gather for a day-long retreat to celebrate and explore our Jewish identities and communities. We will have critical and in-depth discussions around Birthright, Israel and Zionism; share our diverse Jewish cultures and histories; and prepare for our Birthright action the next day. This is our real Birthright- the joyful, justice-centered young Jewish communities we are building together.
Ally Fernandez, senior, member of Jewish Voice for Peace, Vassar:
[blockquote text='"As a young Jew, I do have a Birthright, but it does not look like a guided tour to a state whose past and ongoing crimes against Palestinians, Mizrahi Jews and other minorities are hidden from view. I have the right to a world untainted by oppression and war, the right to form connections to peoples and lands without lenses stained by propaganda and deadly lies of omission, and the right to celebrate my heritage, survival and future- but not at the expense of another. Until Palestinians are free to enjoy these same rights, I will not take a Birthright trip; I will fight where I am, as a Jew, as Latina, as a woman, the product of a million diasporas, for all peoples facing oppression."' text_color=" quote_color='undefined' width=" line_height=" background_color=" border_color=" border_width="]
Khalid Abudawas, sophomore, member of Students for Justice in Palestine, New York University:
[blockquote text='"The Birthright program does not show anything more than an idealized version of Israel. It does not acknowledge the realities of the Palestinian experience, living with the everyday brutalities of Israeli occupation. It will not tell you about my Palestinian friends and family, killed or injured by the Israeli military. It will not tell you how this summer, when I went out with children from the village of Burin for a kite festival, we were met with live fire from Israeli forces. Time and time again, Palestinians' stories are erased from what people learn about the Holy Land. Now, we are here to tell our stories."' text_color=" quote_color='undefined' width=" line_height=" background_color=" border_color=" border_width="]
Ben Lorber, Campus Coordinator, Jewish Voice For Peace:
[blockquote text='"We were surprised to hear that, less than a week before the date, the Birthright Israel Foundation decided to postpone their big-ticket gala, at the potential risk of significant financial losses for Birthright, after Mr. Adelson has fractured three ribs and cannot attend in person. We wish Mr. Adelson a speedy and complete recovery, however we remain outraged that Birthright was set to bestow upon him their 'Guardian of the Jewish Future' award, at a time when young American Jews- Birthright's central constituency – grow increasingly alienated by the far-right, ultra-nationalist politics favored and funded by Adelson in America and Israel.
"Birthright gives Jews from around the world a free trip to Israel, while Palestinian refugees cannot visit, much less return to their homeland. It presents a sanitized, idealized portrait of Israel as a Jewish Disneyland, with little mention of Israel's occupation and system of inequality. In these and other ways, Birthright exemplifies the Adelson-style politics of exclusion and xenophobia in dire need of dismantling, from Israel to the U.S.A."' text_color=" quote_color='undefined' width=" line_height=" background_color=" border_color=" border_width="]
PHOTO/VIDEO: Outside the Birthright Foundation's offices, young Jews will drop oversized mock Birthright tickets into an oversized 'Return the Birthright' tzedakah box, and will testify as to why, as proud Jews, we are 'Returning the Birthright' in solidarity with the right of Palestinian refugees to return. Using ritual involving giant mock Hanukah candles, we will rededicate ourselves to Jewish values of justice and solidarity.
BACKGROUND:
Return the Birthright website, featuring manifesto, pledge and FAQ about our campaign
'Jewish Voice for Peace Urges Young Jews to Boycott Israel', Haaretz, Sep 2, 2017
'Why I, A Palestinian, Want Young Jews to Boycott Birthright', Rani Allan, Huffington Post, Sep 29, 2017
'Why I Refuse to Go on Birthright- And You Should, Too', Noah Mlyn, October 2, 2017
'Three Reasons to #ReturntheBirthright', Jewschool, November 27, 2017
###
Jewish Voice for Peace is a national, grassroots organization inspired by Jewish tradition to work for a just and lasting peace according to principles of human rights, equality, and international law for all the people of Israel and Palestine. JVP has over 200,000 online supporters, over 70 chapters, a youth wing, a Rabbinic Council, an Artist Council, an Academic Advisory Council, and an Advisory Board made up of leading U.S. intellectuals and artists.
Get
the Wire
Stay up to date on the most important news from Palestine and the Palestine solidarity movement, and receive action alerts and invitations to online events.