Rights of Return: BADIL in Milwaukee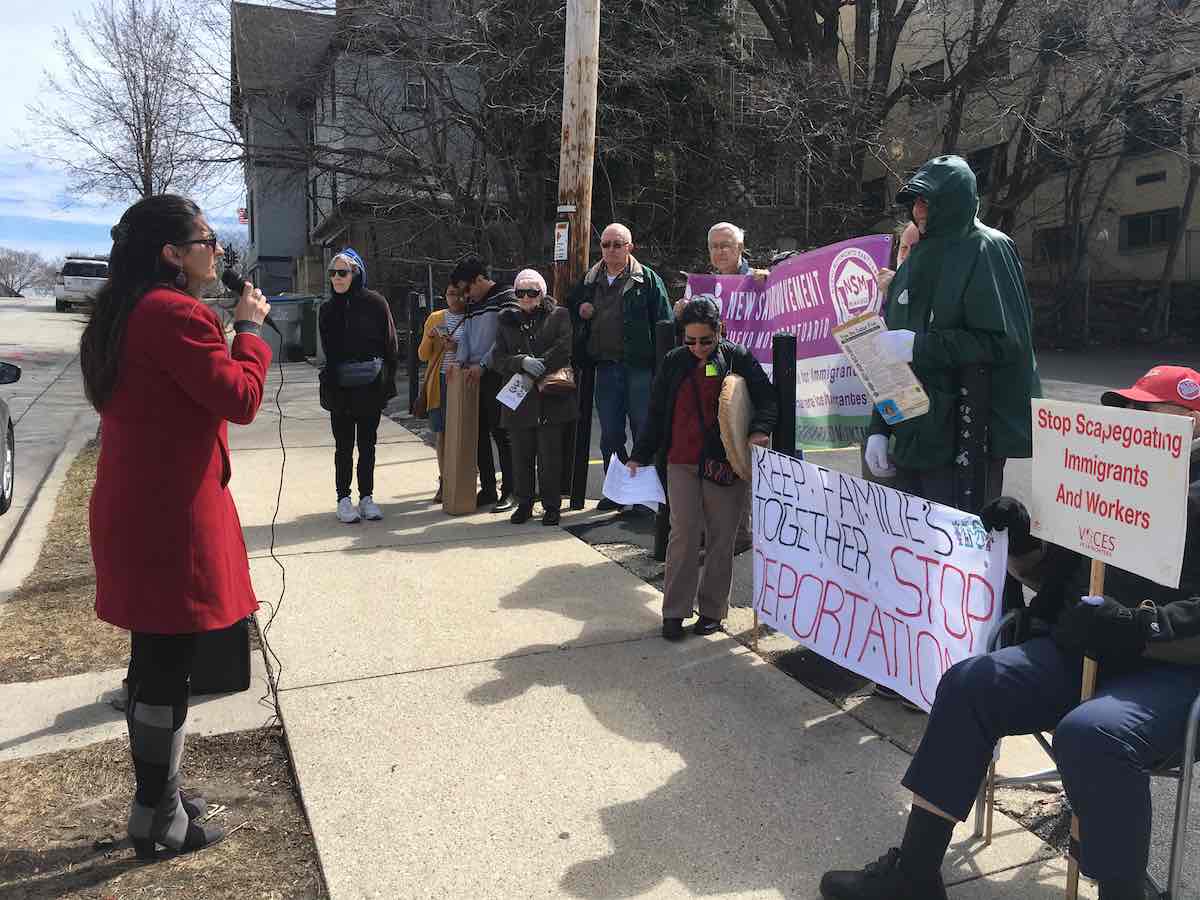 Guest post by JVP-Milwaukee chapter member Rachel Ida Buff
The week after the National Membership Meeting, Jewish Voice for Peace-Milwaukee had the good fortune to host Lubnah Shomali of BADIL- Resource Center for Palestinian Refugee and Residency Rights for two days. Shomali's visit included a panel discussion with local allies, a talk at the monthly New Sanctuary Movement(NSM) noon vigil in front of the Immigration Customs Enforcement (ICE) Agency building, and a presentation at the Islamic Society of Milwaukee (ISM).
Two of these events, the panel discussion and the talk at the ICE vigil, cast the work of BADIL on behalf of Palestinian refugees into intersectional dialogue with issues of justice, rights and forcible displacement in the U.S. The panel, "Palestine and the U.S.: Justice, Dignity and Enduring Peace", featured Christine Neumann Ortiz of the immigrant rights and workers' center Voces de la Frontera; Michelle Boyd, Turtle Mountain Chippewa from the Congregation of the Great Spirit and the Indian Community School; and Gregory Chambers, Jr., Co-Organizer of Standing Up for Racial Justice, Milwaukee and plaintiff in the Wisconsin ACLU lawsuit against the Milwaukee Police Department's stop and frisk policies. The monthly NSM vigil in front of ICE featured the reading of a list of names of those in deportation proceedings, giving Shomali's words about repression, detention and securitization in Israel/Palestine a powerful context.
Hearing Shomali speak about Palestinian refugees at these events made me think about what centering migrancy and displacement offers to our current political work. The Palestinian struggle over the right to return has deep intersections with local struggles in the U.S. against deportation, dispossession, and detention.
The work of BADIL illuminates the right of return for those displaced from their homelands as it is inscribed in international law. Adopted by the United Nations in 1951, the right of return means the right to freely leave or return to a place of origin or habitual residence; the right not to be displaced or dispossessed. According to Shomali, while Palestinians are the longest standing refugee population in the world today, not a single Palestinian has been able to return to their home under the right of return policy.
Responding to Shomali's description of Palestinian struggles, Neumann-Ortiz spoke of the "internal enforcement piece" of revived efforts to federalize local law enforcement to perform deportation sweeps. In Milwaukee, this effort is supported by right-wing Sheriff David Clark, who has gone to Israel twice to study "homeland security practices", once funded by the National Rifle Association, and once by the American Israel Educational Foundation. "This is all the same struggle, applied in different facets," Neumann-Ortiz said. Her words resonated deeply for those of us thinking about the JVP Deadly Exchange campaign, targeting police exchanges between the U.S. and Israel.
Michelle Boyd identified with Shomali's description of Palestinian, displacement, noting that 39% of Indians on reservations today live in poverty. Just as Euro-American settlers dispossessed indigenous inhabitants, she said, the arrival of displaced people "doesn't give them a right to displace other people." Identifying parallels between the 40% of male Palestinians who have been arrested and the third of Black men who have been incarcerated, Gregory Chambers, Jr., spoke of the need for a global surge against securitization, militarization and detention. In Milwaukee, over half of Black men in their 30s have been incarcerated.
Shomali's visit connected struggles against deportation, detention and dispossession in Palestine and Milwaukee. Together, we traced links between different struggles.
In the wake of Shomali's visit, our chapter has been working with Voces de la Frontera on their campaign to fire Sheriff Clark; one component of the platform opposing Clark concerns his trips to Israel and their implications for the safety of the Milwaukee community.
Working against deportation, detention and dispossession is one way to frame local issues in dialogue with the Palestinian struggles. With pressure from a coalition of community groups, County Board ratified an "Anti-Discrimination" Resolution in February, mandating against allowing ICE deportation forces into the community, as well as opposing Islamophobia and racism in the community. The Milwaukee Public School created a sanctuary district in April to prevent the deportation of children from their schools. These initiatives assert rights of return and home parallel to the ones described by Lubnah Shomali and BADIL.
Get
the Wire
Stay up to date on the most important news from Palestine and the Palestine solidarity movement, and receive action alerts and invitations to online events.